C. Miesen News
The RETTmobil is the European Leading Exhibition for Rescue and Mobility held in Fulda. From 15th to 17th May 2019 we will be presenting our products
more information
C.MIESEN receives major order from Iran for a conversion of 800 ambulance vehicles
Last year, our production went on high-speed as we received an order from the Ministry of Health and Medical Education ("MOHME") for a total of 800 al
more information
18 new ambulance vehicles for OMAN
At the end of last year, we delivered 18 ambulance vehicles based on the Mercedes-Benz Sprinter 324 box van, Wheelbase 3.665 mm, high roof, with two
more information
News
zurück zur Übersicht
C.MIESEN receives major order from Iran for a conversion of 800 ambulance vehicles


Largest single order in the history of C.MIESEN
C.MIESEN receives major order from Iran for a conversion of 800 ambulance vehicles


Last year, our production went on high-speed as we received an order from the Ministry of Health and Medical Education ("MOHME") for a total of 800 almost identical, ambulance vehicles based on the Mercedes-Benz Sprinter.

The entire delivery was provided in several partial deliveries and should handle within six months.

This put our logistics and many production processes to the test. To keep other orders running unaffected, this required some adjustments. In this way, a new production line was created, with an experienced staff members, took care of this order exclusively.

And the effort was paid off. All vehicles were finished on time and delivered to our customers with the fullest satisfaction



The first 25 ambulance vehicles of this order were handed over by a delegation from the Ministry of Health and Medical Education in Bonn.

The technical equipment of our modern production facility was also taken into consideration.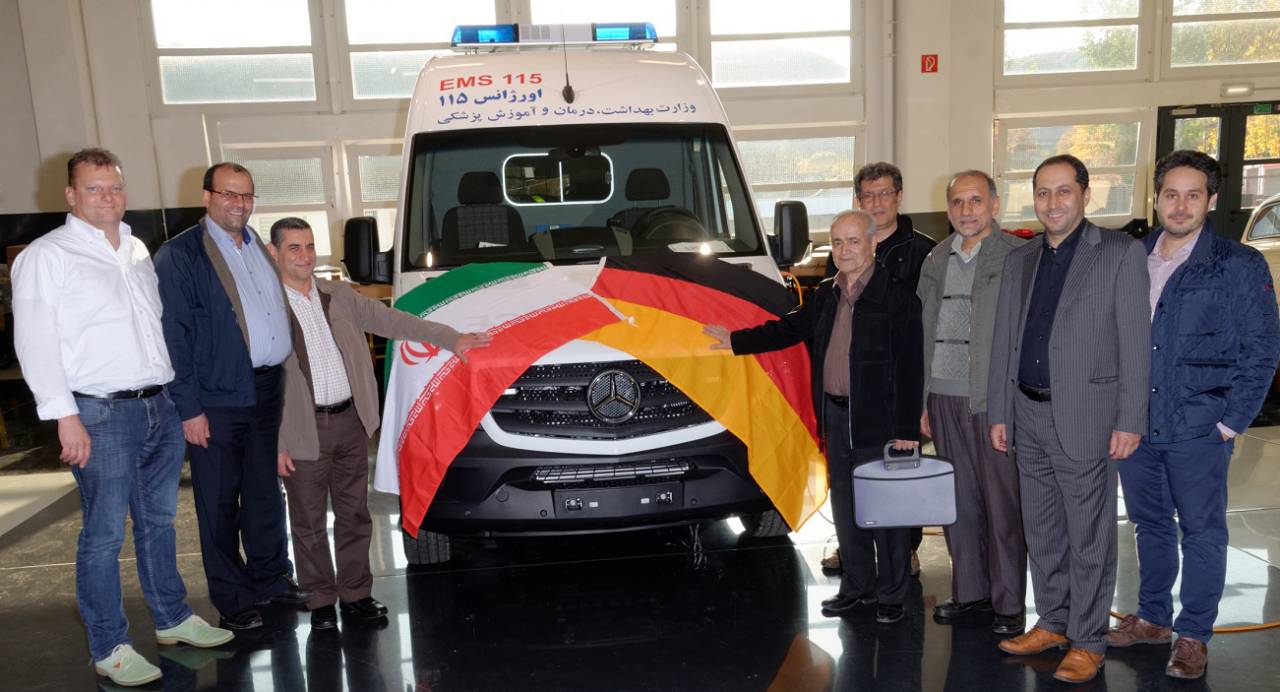 By the Mercedes-Benz Sprinter 315 CDI, with a wheelbase of 3,665 mm and a high roof, the vehicles are used for transportation and first aid as well as patient medical monitoring and specially designed to meet the needs of civil protection.

The medical technology of the ambulance vehicle is state-of-the-art and corresponds to the European standard!




On the right side wall is a comfortable bench which can accommodate up to three people. There is an additional storage space below the seat which can be accessed by opening the seat. Here, The plug-in brackets for the DIN-carrier safely stowed away. The seat equipped with three-point seat belts.

A wall bracket, which can be plugged into the side wall, is used to hold an additional foldable carrier (DIN13024) and thus to transport a second patient. In case of catastrophe, or many injured people, to be treated at the same time.




The entire interior lining (side walls, floor, ceiling, and partition) consists of robust and easy-care GRP moldings.

With an additional sliding door on the left-hand side of the vehicle, an outside compartment is accessible and can accommodate 2 x 10 liters of oxygen bottles, spineboard, support, splints and KED systems.

The oxygen cylinders operated from the patient's room via a sliding disc inserted into the storage compartment.






Compartments and a drawer cabinet guarantee an apparent accommodation of the medical equipment! In the roof center is a holding rail. A comfortable seat on the partition provides a pre-head care of the patient. Behind the paramedic seat, there are some small compartments for additional storage.




We always wish the Iranian rescue forces service a safe trip!

Adresse
C. Miesen GmbH & Co. KG

Südstr. 119
D-53175 Bonn

Tel.: +49 228 54009 0
Fax: +49 228 54009 22
e-Mail: info@miesen.de
ON SALE:
Miesen Rescue Ambulance on Mercedes-Benz Sprinter 224
Miesen Rescue Ambulance on Mercedes-Benz Sprinter 224 wheel base: 3665 mm >>> DEMO-VEHICLE <<< Color: white Year / model: 2012 Miesen Code: 66160 / 13 Please see pictures for details. Further details are available with our Sales Team!
read more