Unterpunkte
C. Miesen News
CORONA | COVID-19
Dear Customers With the Corona virus, our society is currently facing a very big challenge that has not existed so far - at least in Germany and Eu
more information
Historical MIESEN Images Data Base
Repeatedly our customers as well as other concerned people asked us for historical images material. It is most likely that due to our company's histor
more information
Let´s go SOCIAL MEDIA !
Let's go social media! In the time of web 2.0 we have decided to create our own fan page! You can also find us at
http://www.facebook.com/C
more information


Rescue Ambulances
back
Exterior and interior presentation of a Mercedes Benz Sprinter 315 CDI

Front view:

C.MIESEN ambulances based on Mercedes Benz Sprinter (wheelbase 3.665mm) can be equipped with conventional warning bars or rotating beacons. Or you choose our integrated signaling device on LED basis (as shown on the picture).

Equipped with an integrated signaling device, an optimized Cw-value - due to the smooth aerodynamics of the ambulance - arises. You face an increasing economy of your vehicle because of the associated fuel saving. Additionally, t

he

wind

noise is

significantly quieter

, which leads to a higher travelling comfort.

This ambulance meets DIN EN 1789, type C.


Tail view:

We installed a GRP console in the upper area of the vehicle's rear and integrated LED modules in both blue and yellow to secure the vehicle to the rear. Also included are additional red brake lights. If switched on, two working spotlights illuminate the area behind the ambulance. An optional rear view camera for background overview could be mounted in the center of the console.

An aluminium made footstep at the rear of the vehicle eases the entrance to the patient's compartment, At the same time it serves as a bumper and absorber for minor collisions: d

ue

to its technical design

it

captures

minor shocks

,

which are

not transmitted to the

vehicle structure

and

protect it against

inherent

damages.

View from the sliding door entrance:



Close to the partition wall is a cabinet

,

which is

perfectly accessible

from the side

door. Two emergency cases or an

emergency

backpack

can be stored here

. At the front of that cabinet is a folding seat

with

2-point

lap belt

and headrest

.

Underneath the seat you see the output nozzles of the heating system.

Left of these arrangements we installed a drawer cabinet and to the very left a pull-out storage element, often used as pharmacy cabinet.

In the upper region of the partition wall we included a stowage area, which provides additional storage space.
View of the partition wall:

Here you see the clear arrangement of the partition wall cabinets once again.

To the very left you find the pharmacy- and to its right side a cultivated ampoule cabinet. Underneath there is a drawer cabinet and to the right the folding seat with a storage area for emergency cases or an emergency backpack on its backside.

The working surface above the drawer- and the emergency case cabinet is made of stainless steel. An associated roller bar prevents material from falling down.


Patient's compartment:

Sidewalls, wheel arches and ceiling of the patient's room consist of only three GRP form parts. Over the side domes these parts have been stuck together to one piece, what optimizes cleaning and disinfecting. The GRP-parts guarantee for highest hygiene claims. Curves diminish the injury danger for patient and attendant. Besides, GRP material - in contrast to the ABS plastic used in earlier times of ambulance manufacturing - appears non-yellowing, still after years. The high strength of GRP prevents a splintering of the panels if a crash occurs - an important safety aspect.


Adresse
C. Miesen GmbH & Co. KG

Südstr. 119
D-53175 Bonn

Tel.: +49 228 54009 0
Fax: +49 228 54009 22
e-Mail: info@miesen.de


Dürnau Branch
Jurastraße 22
D-73105 Dürnau

Tel.: +49 7164 90319 10

NEW: Undertaker vehicles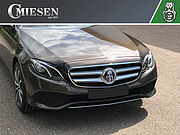 Latest releases of part of our portfolio are exclusive undertaker vehicles "made in Germany" based on extended Mercedes-Benz E-Class.