Unterpunkte
C. Miesen News
The RETTmobil is the European Leading Exhibition for Rescue and Mobility held in Fulda. From 15th to 17th May 2019 we will be presenting our products
more information
C.MIESEN receives major order from Iran for a conversion of 800 ambulance vehicles
Last year, our production went on high-speed as we received an order from the Ministry of Health and Medical Education ("MOHME") for a total of 800 al
more information
18 new ambulance vehicles for OMAN
At the end of last year, we delivered 18 ambulance vehicles based on the Mercedes-Benz Sprinter 324 box van, Wheelbase 3.665 mm, high roof, with two
more information
Fast Respond Vehicles
back
External and internal presentation of the vehicle

Front view:

Conversion of a Nissan X-Trail in accordance with DIN 75079. The silver basic vehicle was covered with daylight luminous foil and and inscription following customer request.

On the roof a warning bar has been mounted, we also integrated flashing LED lights into the front grille.

Side view:

On the right

rear

seat a

cabinet

was

installed

.

The work surface

in the trunk

can be extended.





Insight into the trunk:

Clear and well-conceived storage space for medical and technical devices on a pull-out panel.

View through the side door:

Installation of a cabinet element on the right side of the back-seat for the placement of medical supplies.

In the bottom drawer we installed a heating compartment for the placing of temperature-sensitive infusions.
Adresse
C. Miesen GmbH & Co. KG

Südstr. 119
D-53175 Bonn

Tel.: +49 228 54009 0
Fax: +49 228 54009 22
e-Mail: info@miesen.de
ON SALE:
Miesen Ambulance on Ford Transit Custom Trend 330L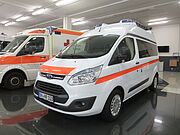 Miesen Ambulance on Ford Transit Custom Trend 330L, wheelbase 3.300 mm, acc. DIN EN 1789 >>> DEMO-VEHICLE <<< Color: Frost-White Miesen Com.-No: 50150/ 15 Mileage: approx. 2.700 km Please see pictures for details. Further details are available with our Sales Team!
read more