Unterpunkte
C. Miesen News
A new ambulance for SIS La Chaux de Fonds (CH)
A new ambulance with an integrated luggage body was delivered to la Chaux de Fonds in the canton of Neuchatel in western Switzerland last week. The
more information
New ambulance on MAN TGE for Macau
Just recently we handed over a very special project to the shipping company. We were favored to convert our first ambulance vehicle based on a MAN
more information
10 new emergency medical vehicles for the Syd-Denmark region
For our customer "Region Syd-Denmark" we were able to expand a total of 10 new emergency medical vehicles based on Mercedes-Benz GLE. Numerous equipme
more information
Lying Carriage Vans
back
Exterior and interior presentation of the Opel Movano L2H2:

Side view of Opel Movano L2H2:

The Opel Movano basis vehicle

fits perfectly

for its

task as Lying carriage van.

Rear view:

The ramp

in

the unfolded

state

...

Insight

rear entry

:



Due to its measurements, the i

nterior space

allows for convenient

travel.

Rear entry:

The ramp

in

the unfolded

state, seen from behind. The

perforated

execution

saves

weight

and

allows

safe use

even in wet conditions.

View through the sliding door:

Once again, you can see the comfortable space of the patient's compartment.

A fold-out

step offers

easy access to the rear area.

Collapsible entrance side step:

Details of the foldable step.

View

of the partition wall:



Sidewalls, wheel arches and ceiling of the patient's room consist of only three GRP form parts. Over the side domes these parts have been stuck together to one piece, what optimizes cleaning and disinfecting. The GRP-parts guarantee for highest hygiene claims. Curves diminish the injury danger for patient and attendant. Besides, GRP material - in contrast to the ABS plastic used in earlier times of ambulance manufacturing - appears non-yellowing, still after years. The high strength of GRP prevents a splintering of the panels if a crash occurs - an important safety aspect.
Exterior and interior presentation of the

Opel Vivaro L2H1:

Front view:



Conversion of an Opel

Vivaro

L2H1

as

lying carriage

van for

non-qualified

ambulance

. The modular C.MIESEN interior enables us to offer a wide range of different ambulance conversions. So we can flexibly adapted the vehicle to your individual needs.

Rear and side view:

By darkening the windows with tinted foil the insight into the patient's compartment is prevented.

View of the partition wall:



In the lower range of the

partition wall we integrated a

stowage space. An emergency case, for example, can be stored here.

Rear view

:





Patients travel

comfortably

on the

stretcher or

on

the

patient's chair.

View through the sliding door:

The side panel cabinet, covered with blue plexiglass windows, offers a lot of stowage space for medical devices. A folding seat accommodates an attendant. The seat position provides optimal view to patients lying on the stretcher or sitting on the patient's chair.
Adresse
C. Miesen GmbH & Co. KG

Südstr. 119
D-53175 Bonn

Tel.: +49 228 54009 0
Fax: +49 228 54009 22
e-Mail: info@miesen.de


Dürnau Branch
Jurastraße 22
D-73105 Dürnau

Tel.: +49 7164 90319 10

NEW: Undertaker vehicles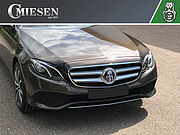 Latest releases of part of our portfolio are exclusive undertaker vehicles "made in Germany" based on extended Mercedes-Benz E-Class.