Unterpunkte
C. Miesen News
The RETTmobil is the European Leading Exhibition for Rescue and Mobility held in Fulda. From 15th to 17th May 2019 we will be presenting our products
more information
C.MIESEN receives major order from Iran for a conversion of 800 ambulance vehicles
Last year, our production went on high-speed as we received an order from the Ministry of Health and Medical Education ("MOHME") for a total of 800 al
more information
18 new ambulance vehicles for OMAN
At the end of last year, we delivered 18 ambulance vehicles based on the Mercedes-Benz Sprinter 324 box van, Wheelbase 3.665 mm, high roof, with two
more information
Service
back
Our leasing partners:
• AS Autoleasing Service GmbH
• UTA Leasing GmbH
• ILG Industrial Sales and Leasing GmbH
Leasing we see as a form of financing without loading you own liquidity so you stay able to have thus more flexibly to react to the respective market situation.
Whom ever decides for leasing as a financing from our house, will determine, how unbureaucratic the entire clearing turns out. Much commitment and experience stands for many years, connected with favorable financing and leasing concepts.
Would you like to know, how high the monthly leasing installments of your new vehicle would be? No problem!
Within shortest time we will arrange an individual, no obligation quote made to measure your needs.
Adresse
C. Miesen GmbH & Co. KG

Südstr. 119
D-53175 Bonn

Tel.: +49 228 54009 0
Fax: +49 228 54009 22
e-Mail: info@miesen.de
ON SALE:
Miesen Ambulance on Ford Transit Custom Trend 330L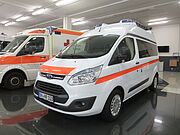 Miesen Ambulance on Ford Transit Custom Trend 330L, wheelbase 3.300 mm, acc. DIN EN 1789 >>> DEMO-VEHICLE <<< Color: Frost-White Miesen Com.-No: 50150/ 15 Mileage: approx. 2.700 km Please see pictures for details. Further details are available with our Sales Team!
read more